LOL The cake doctor is in, I recently ordered some new "bakebooks" because a lady in my cake decorating class (by whom already decorates cakes flawlessly) mentioned this lady called The Cake Mix Doctor. Well my cake mix cakes needed to be brought back to life so I HAD to get her book. She teaches you how to doctor up any box cake mix to make it taste like scratch and she has a ton of neat tips-I am in love!
For my last cake decorating class I thought I would spice it up and make a snickerdoodle cake (Gregs favorite cookie, and come to find out his brother's too-perfect they are coming to visit this weekend, I won't have to eat a whole cake by myself- woo hoo can I get an amen for the booty)! So Don't fall asleep, but I'm going to show you step by step how I made my boxed cake so I can share these cool/yummy tricks for your cakes!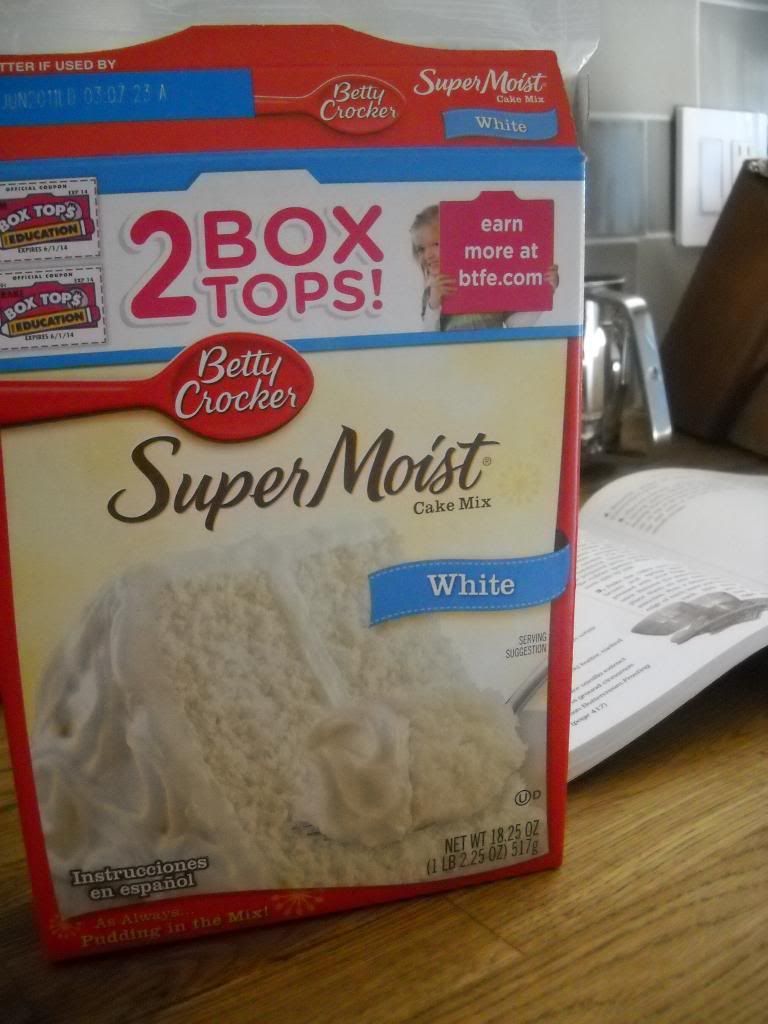 First, you start off with a box of white cake mix- The Dr. says that the box suggests adding egg whites and not the whole egg ,do not do this! She says your cake will taste and look better using the whole egg, it needs the yolk. Also, she says do add melted butter to a white cake mix instead of oil it provides flavor,color and texture (see so many tips already-love it!).
Pre-heat your oven to 350 degrees (tip: pre-heat and have your oven at the right temperature for at least 10 min. before you put your cakes in the oven). Prepare your cake pans-she suggests with shortening and flour ( to get golden sides), but I had this stuff (crisco spray with flour already in it) so I thought I would give it a try.
Place the cake mix, 1 stick melter butter (key is to melt) into mixing bowl...or in my case into my baby! My birthday present isn't it fabulous, awh my KitchenAid Stand Mixer with 3 included attachments and 10 speeds, since I got to open it a smidge early I have been trying to use it every chance I get, which has been A LOT. (Sidenote:When I opened it Greg was like I hope it's not like a husband giving his wife a vacuum...definitly NOT, I have been dreaming about having one of these since 8th grade home ec class. I thought I was going to have to wait until my wedding registry to get the "chance" to get it, I think he did it to hold me over until that day...LOL (hopefully he doesn't read that) ;) ...any hoo back to the cake!
Then you add 3 whole eggs (I checked them were not going to get salmonilla)!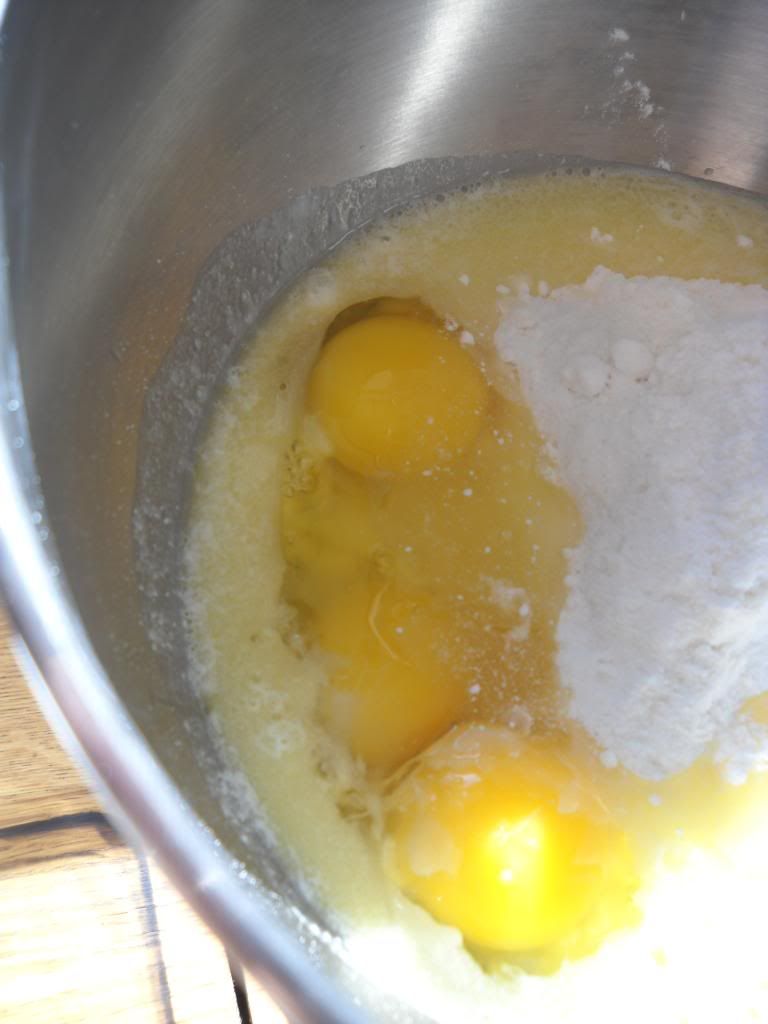 Then 1 teaspoon pure vanilla extract (The dr. says don't use immitation extracts, spend the extra $ to get the good stuff, your cakes will be better for it).
Now 2 teaspoons ground cinnamon (a scoop of joy).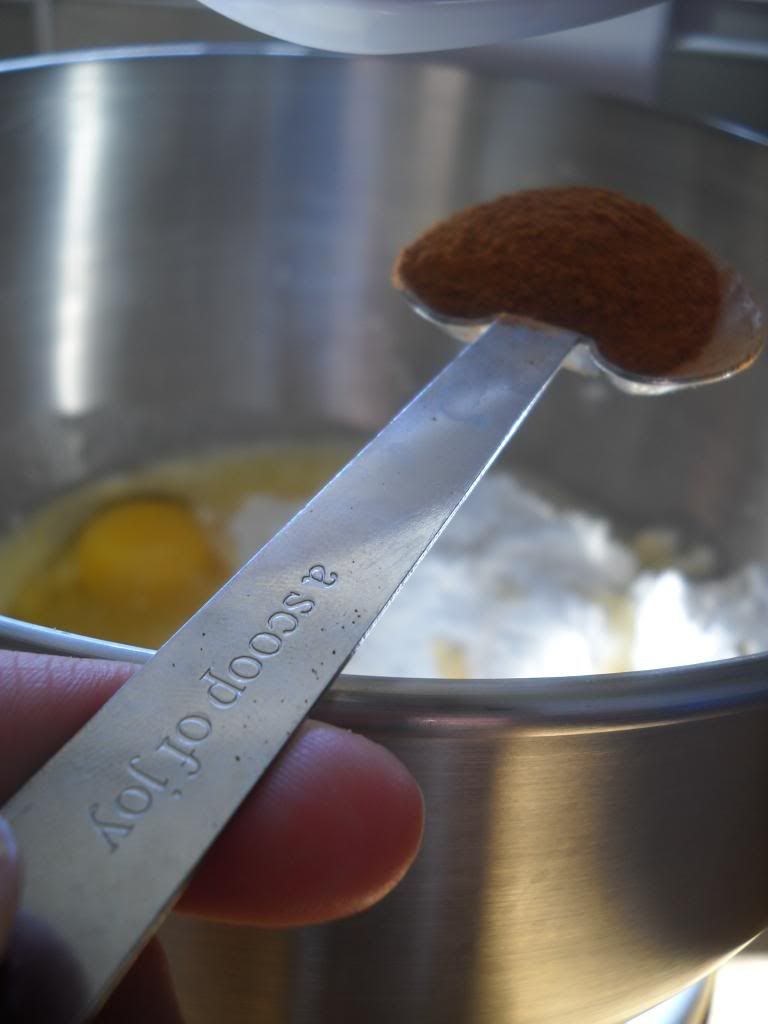 Add 1 cup of whole milk (dr. says in some cakes you need whole milk because it needs more of the fat from the milk).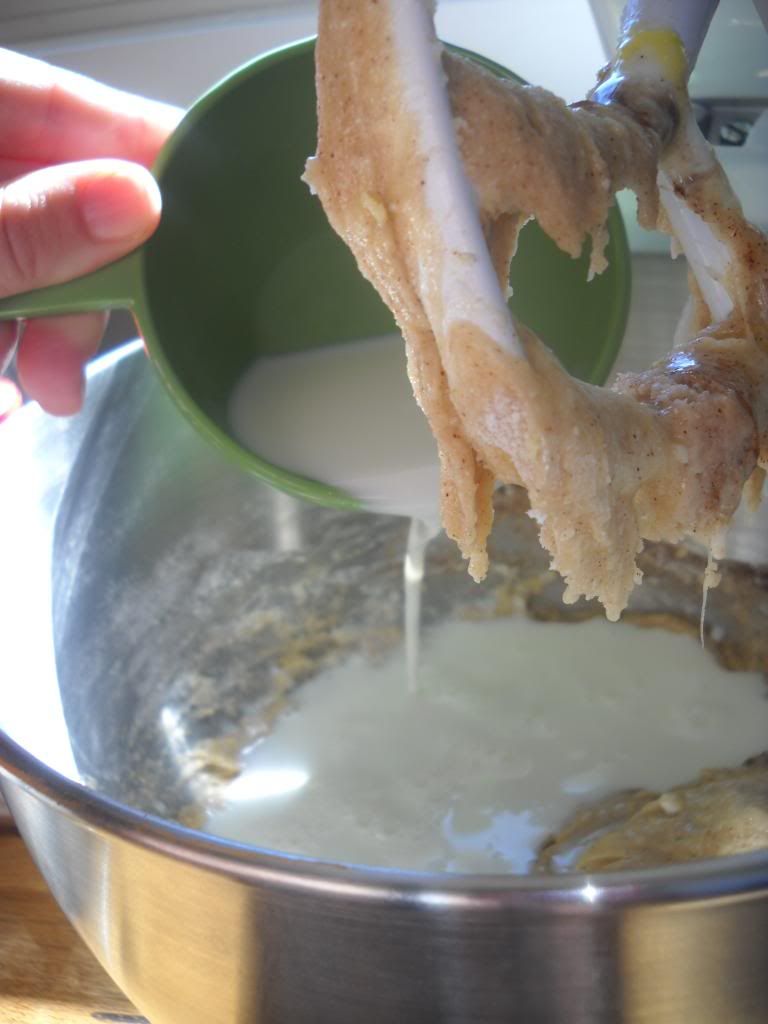 Blend with the mixer until smooth and combined and divide batter between prepared cake pans.
Look at my baby at work...tear! lol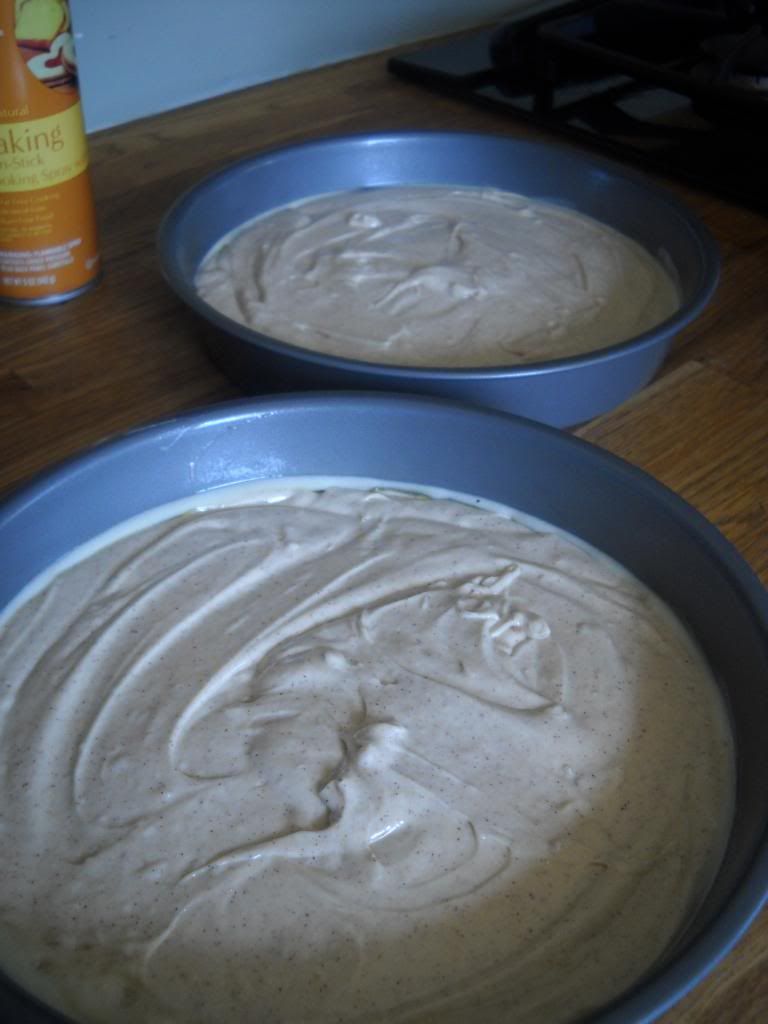 Bake the cakes until golden brown and spring back when lightly touched with your finger, 27 to 29 minutes. Remove the pans from the oven cool on wire rack for 10 min. and then take out of pans to cool another 30 before icing.
While these are cooling I made a cream cheese filling...
1 stick of butter, 1block of cream cheese both at room temp.
Add 3 3/4 cups sifted powdered sugar,1 tsp. vanilla and I added a bit of cinnamon.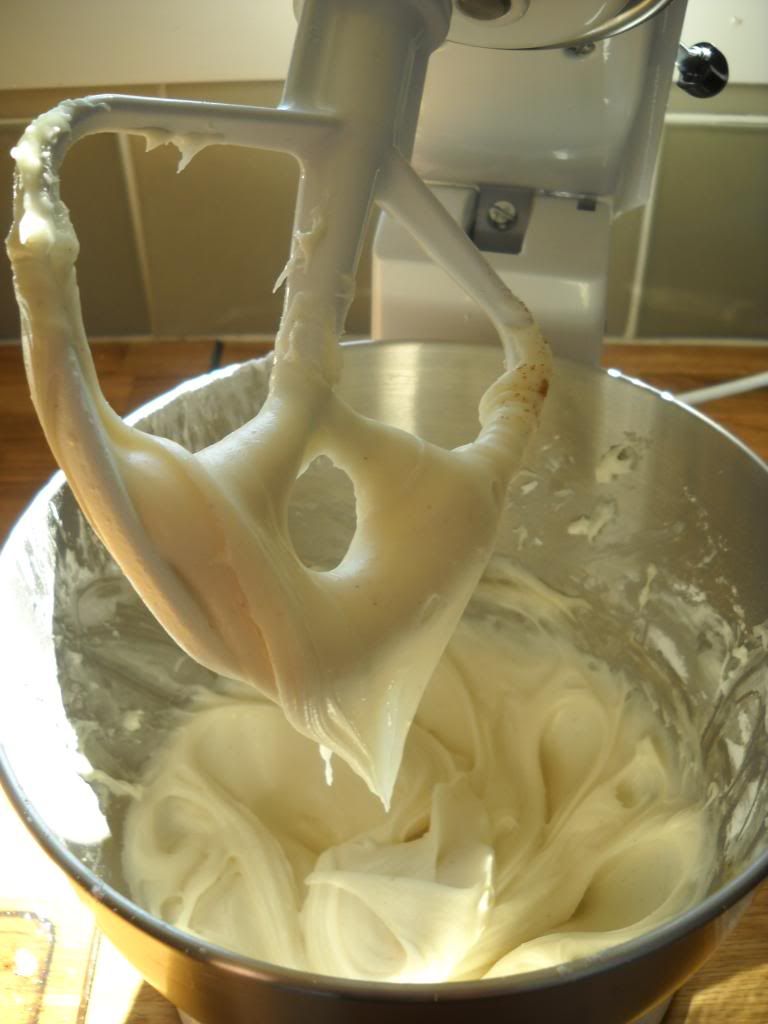 And a Cinnamon Buttercream frosting for the outside.
Beat butter 1 stick (I doubled the batch and used 1/2 shortening, 1/2 butter to make my buttercream more stiff to hold shape better for decorating) until fluffy, 3 3/4 cups sifted powdered sugar, 3 to 4 tbs milk, 1 tsp. pure vanilla extract and 1tsp. cinnamon.
Cream cheese filled, snickerdoodle layered cake ready to be frosted.

I tinted the frosting Teal, this is after spreading-but not smoothing yet.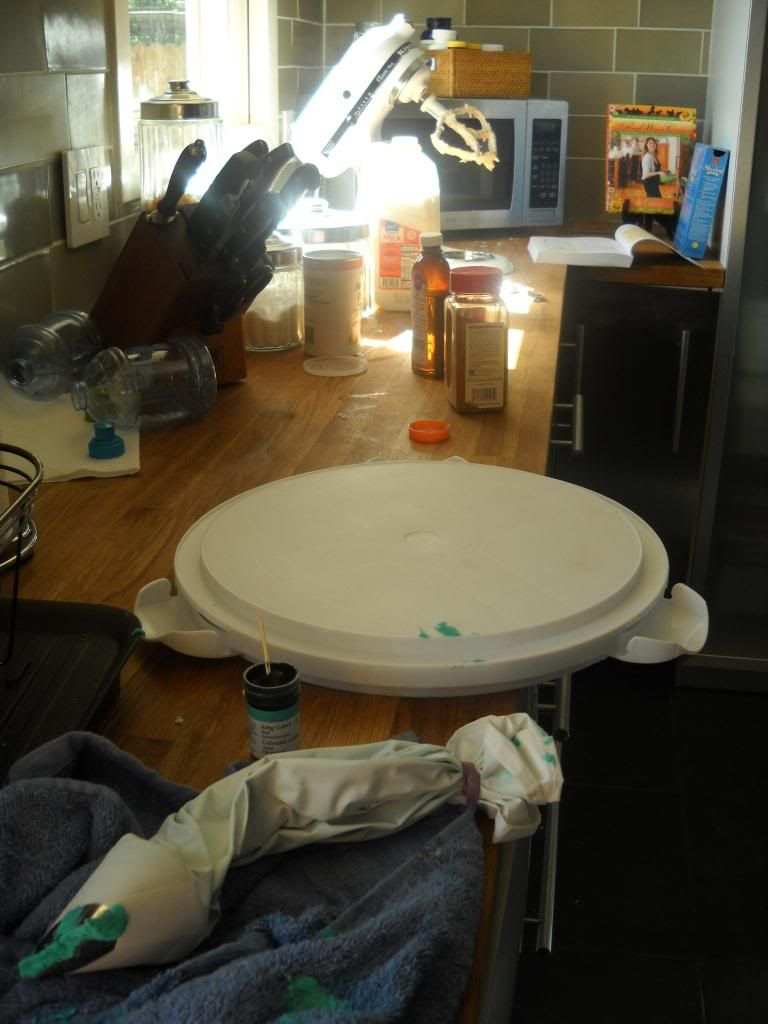 By the way, baking is MESSY business-Trust me the other half of my kitchen was equally bad if not worse. I even separated days , bake the cake one day, make the frostings another, and decorate the last .... then the best day eating it!

Ok here it is after decorating it tonight at class, still working on a lot obviously! I learned a lot of neat tricks, had some fun and met some amazing women so it was a successful venture...did I mention I start my next one Monday ;) lol It was my birthday present to myself-can I afford it NO, will it get me out of the house and keep me sane-YES!