So, I thought of my wonderful grandma twice this week (well more than twice, but twice while eating) and it got me thinking of Food Memories at least I know for my family we have a lot... hmmm might be the reason for my expanding waist line? lol. Food brings us comforting memories that couldn't be recreated other wise.
When it comes to Grandma and Papa's the food memories could just keep flying out-if you have even seen her pantry you know why!The two things that prompted this blog were Grams Chinese Chicken Salad and her full proof way of removing grease from pans ;).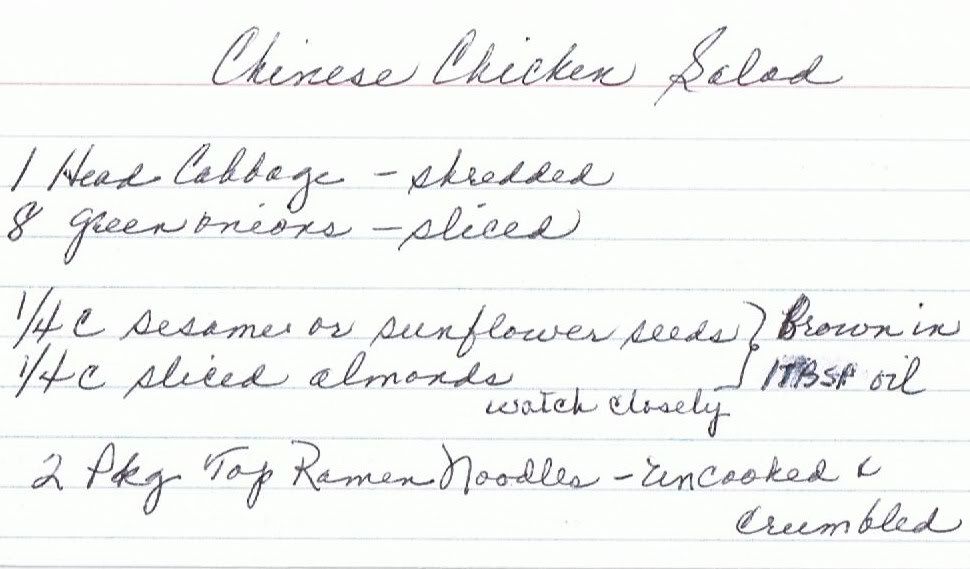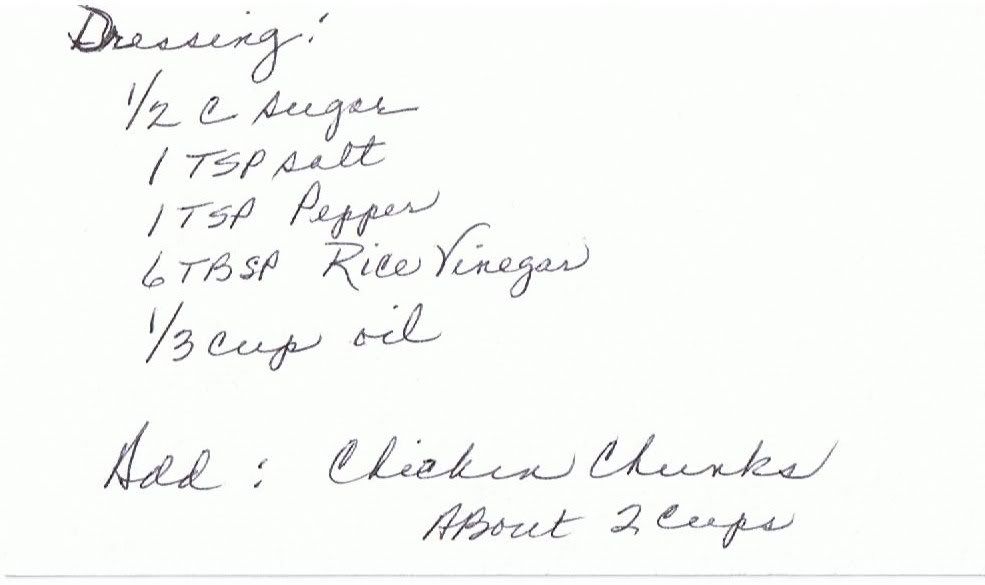 For anyone who doesn't have the recipe here it is, in Grandma's own handwriting (which is special enough in itself).
And because I am lazy, to shred the cabbage I used my mini chopper-which runs in our family too (the mini chopper not the laziness LOL).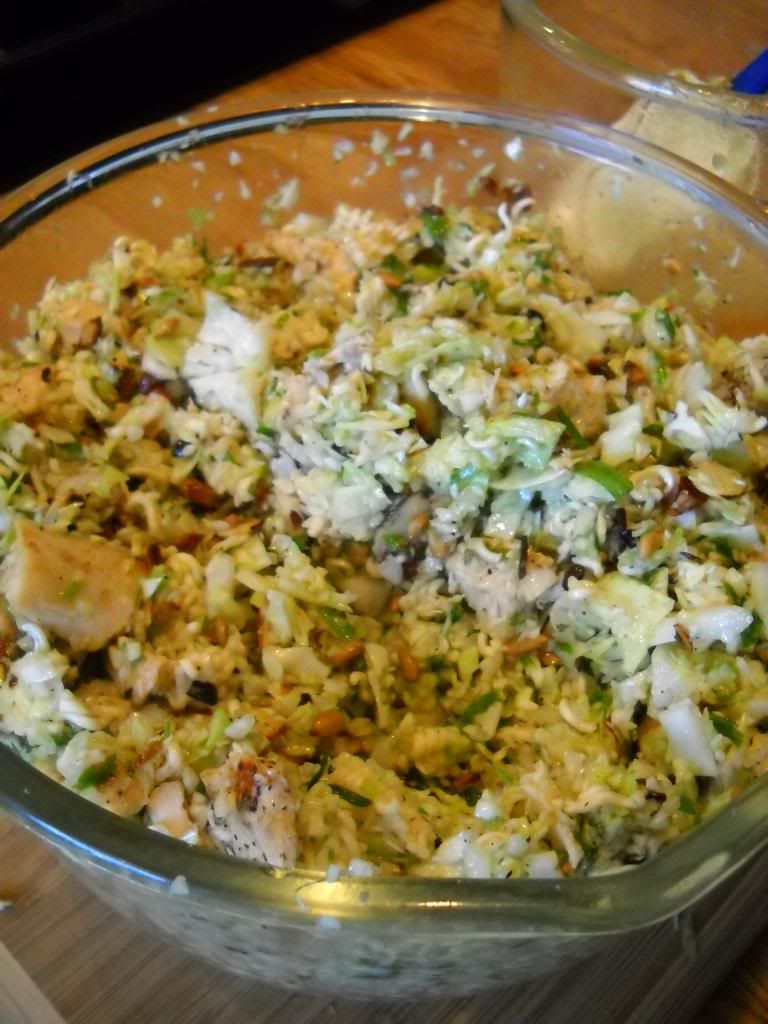 Here is is yummy goodness that brings me back to my grandma's house.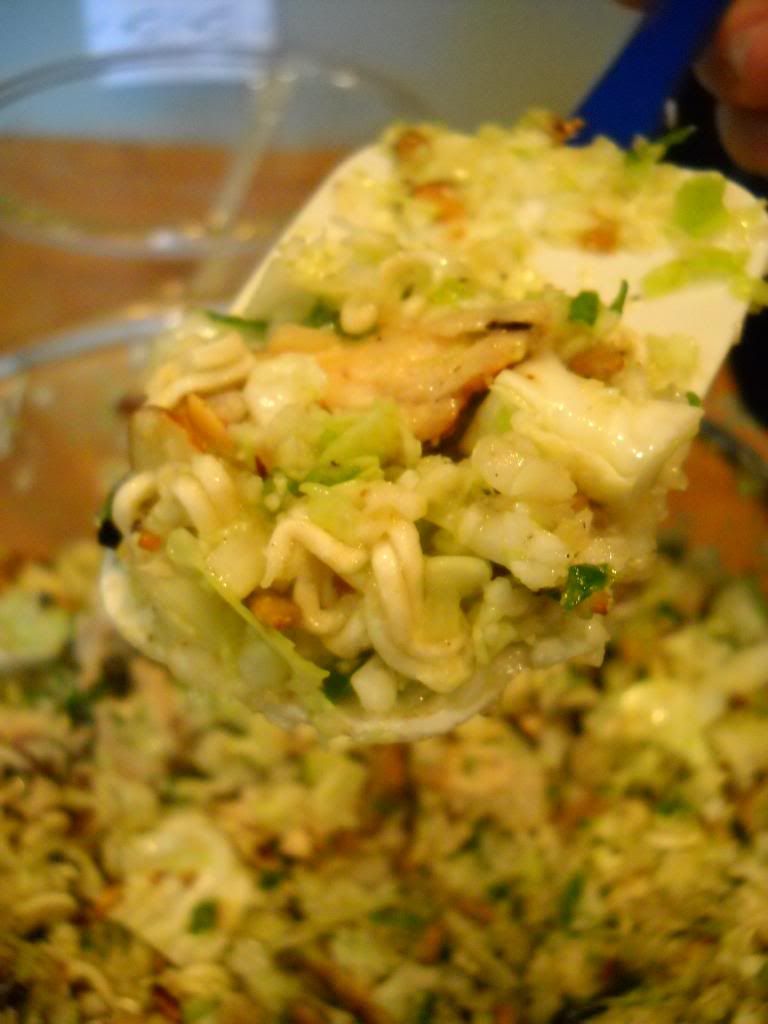 A closer look at the goodness;chicken,almonds (my favorite part), cabbage,top ramen noodles & I used sunflower seeds.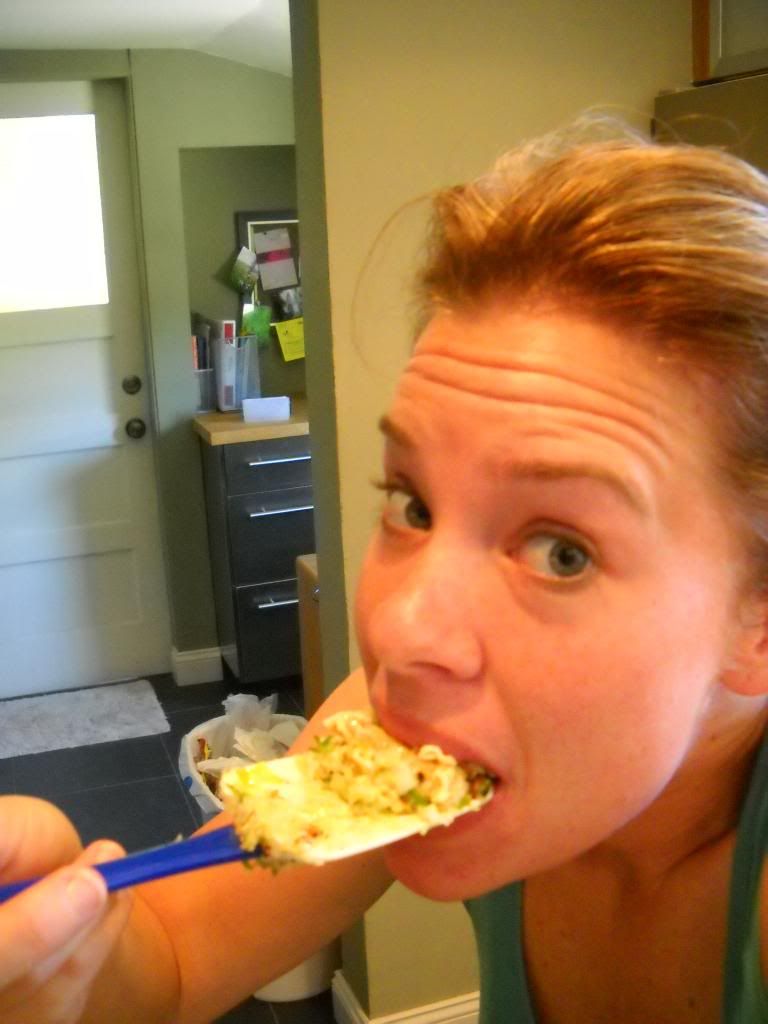 I couldn't resist! Yummy , and yes that is me with no makeup and my p.j's and almost noon today-I was in the mood for a relaxing day :).
What also, reminds me of Grams every time- is sticking a fabric softener sheet in a greasy pan, let it sit for a bit and wa la comes of like nobodies business.P.s I share this trick with anyone who will listen (even with some ladies once in line for a movie they were talking about how to get tough grease off pans- and I shared this tid bit).

Grandma- (ugh I knew I was going to be a blubbering mess typing this) You are amazing there are so many things that remind me how much of a wonderful person you are which we ALL look up to. Squeezy cheese, your oven fried chicken, your thanksgiving stuffing, the turkey cooker are all things that instantly turn my mind to you- I don't know any other grandma who stock piles her pantry with at least one favorite thing for each grand child. I miss you tremendously, but please know I think about you and pop's all the time and with every bone in my body I KNOW we have the best grandparents ever-I love you!

Heather- So much reminds me of you too- Ok really our Taco Bell runs, I think they would be scared when they saw us pull up because we would order everything from the right side of the menu (and a few from the left too). Chilis to go, Red Robin to go lol Your cheesy potatoes , queso dip! You are another one of my role models, you are the perfect older sister-caring, but sometimes pushy (when you need to be), you showed me how to have fun and be responsible, to put family first and always be there for each other. You always tell it like it is , but you will always follow it up with a hug. I laugh and love with no other as much as I do with you- and when Shmo Shmo is in the mix world watch out! At least I know no matter how old we get...we will always be 16 together lol LOVE you!

Mom- Christmas cookies,bacon fried rice,chicken tacos all remind me of you.Thank you for always being there not only to put food on the table for us , but for everything.When it was just the 4 of us I think we had the time of our lives,although the situation was created out of some hard times it created a bond for us that was indestructible.I miss yo so much and appreciate all the calls and notes letting me know that your thinking of me. I love you so much and still appreciate everything you sacrificed to make us happy. You raised some great kids, because you are an amazing mother and person (your grand kids will/have the best grandma in the world too)!
Sorry, I wasn't trying to make this blog so mushy, but I wanted you three ladies to know how much I love and miss you guys xoxo...Damn food memories lol