This weekend we had some amazing house guests...some of my favorite actually. I tried to convince them to move up here with us where Tana and I will open are own store, what was the name Greg came up with "Cakes,Quilts,kids and other stuff",...something like that lol. We figure all of our mildly perfected hobbies could be turned into a Hodge podge store ...lol we will see, maybe one day.
In the mean time we get fun weekend visits; filled with food, gabbing and other stuff...
Basically a weekend with these two means couple time and then separated boy time and girl time, which is fine by me- I usually get a whole lot of my boy time left awaiting girl time. And Tana is a perfect friend to have girl time with, we can be casual, confide in and joke with each other...Plus, poking fun at our "great catch" men isn't bad either (love ya boys)lol.
First off they arrived bearing gifts for the big 25 (major tear, having issues with this number) and I was totally SPOILED.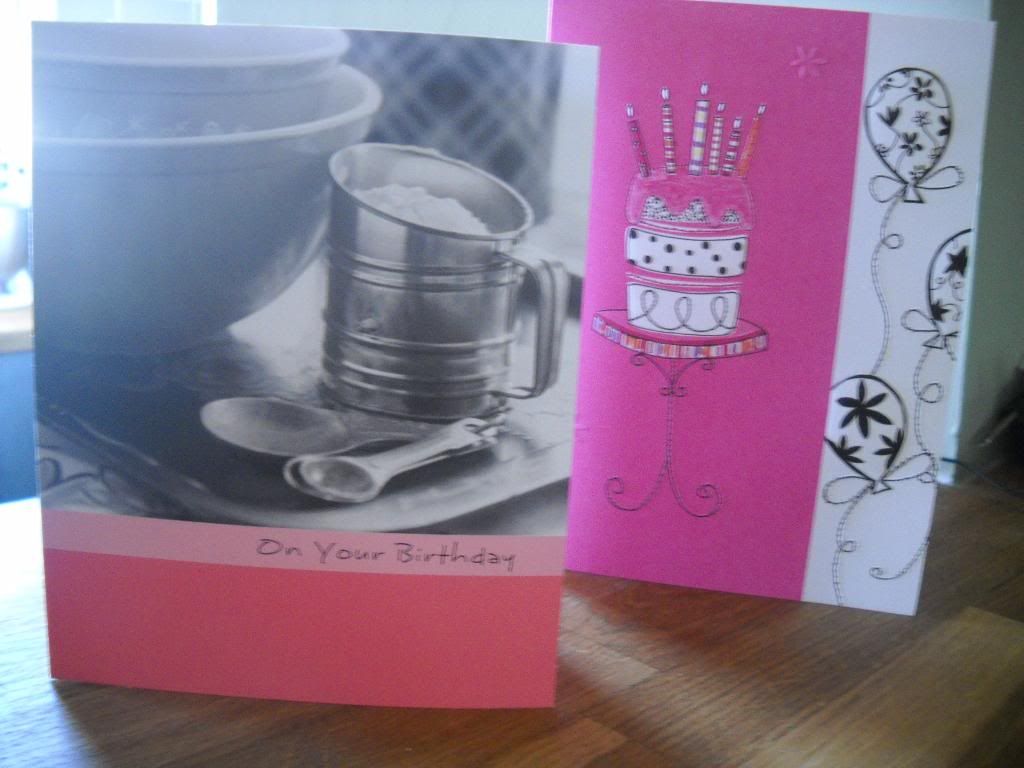 As, you can tell by the cards-Claudia (Greg's mom) and Tana had a theme going on...
Look how Freaking Cute! Claudia has this supernatural talent of picking out or making the perfect gift and being one of the most thoughtful people EVER! Look how adorable the cupcake and cake plate are... then the apron and pot holders yeah she made them. I wish I took a close up of the print on the material, it has mixing bowls and green kitchenaid mixers on it ...beacsue she knew what I was getting from Greg! I mean this women never surprises me on how creative and sweet she is, but she surprised me I wasn't expecting any of this. Tana , got me a spring foam pan which I am super excited about (anything that makes my life easier Is definitly appreciated), green and blue spatulas (that matched my apron by the way) and super cute silicone flower baking molds for cupcakes. THANKS GIRLS, you really helped make my (pre)birthday special and you both are surely surely special to me!
ok, back to the weekend...we went fishing! Yes the boys got us up and loaded in the boat and it was fun and freezing. Well, the sun finally came out -but how we managed to plan a morning on the Delta on the coldest day of the month is beyond me. Mother nature was playing a trick on us or something, it even rained (I mean sprinkled for two seconds, but still).
We caught some fish!, well 4 and by we I mean Greg (trust me he wouldn't let anyone forget it)lol.
We went to a RiverCats game, Sacramento's triple A team. It was a lot of fun, right after this picture we all scarffed down cheeseburgers and garlic fries-yeah we were a good smelling group afterwards. The game was really fun we were on the right field side one row from the field, so the seats were great and kept us awake for those foul balls to the head...And thanks to my driving skills (staying white on rice huh guys lol) we managed to get out of our packed parking lot and get home safe.
Drew and Tana thanks for enjoying a wonderful weekend with us, we know we will be seeing you a lot shortly - well the guys will be shooting things and us girls will be finding something to do ...don't think it will be too hard ;).
The Adult food part of this post's title, describes some food I made this weekend. Usually if a recipe has too many steps or ingredients I pass it on by, but since I am going to be the ripe ol age of 25 I decided I should refine my palet and cook some mature grown up food. Ok maybe homemade mac and cheese isn't really grown up lol, but there were more steps than kraft easy mac.
OK, these recipes are from the pioneer Womens blog and TRUST me she is far more funnier , talented and amazing at taking pictures than me so please check out her blog of these recipes too.
I am not the biggest mushroom fan, but these stuffed mushrooms were delicious!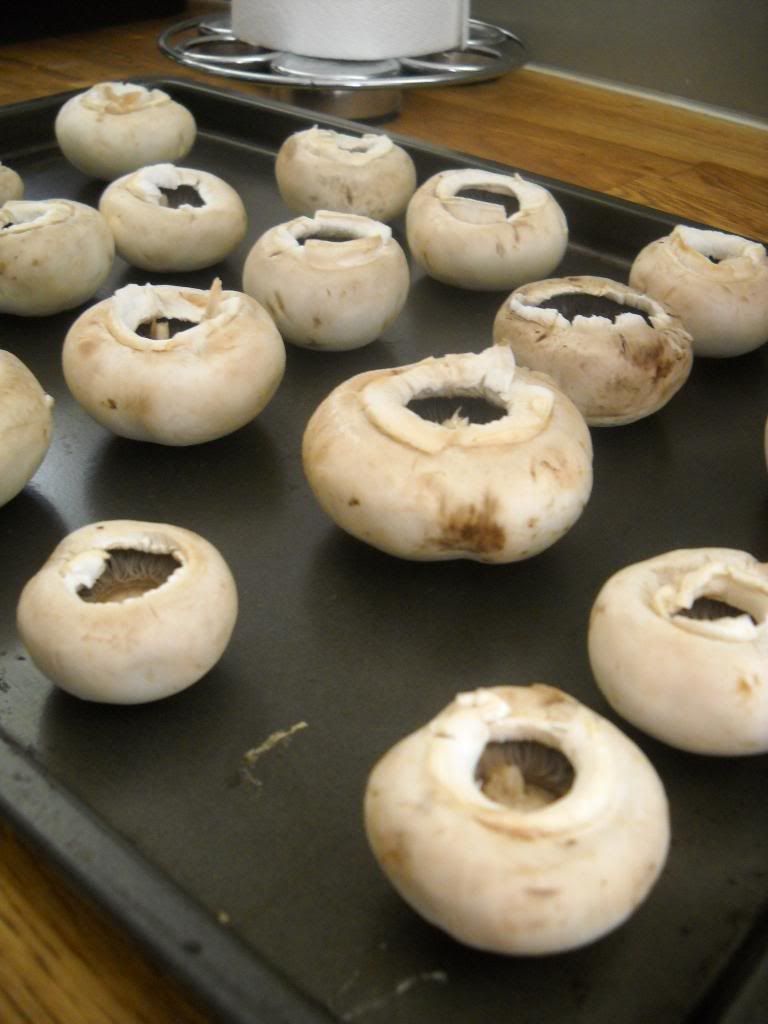 I halved the PW recipe (but trust me we could of and would of ate the full amount).
I used 12 0z of white button mushrooms, clean them and take the stems out (save these).
Brown and crumble 1/3 lb of sausage and let cool (I actually didn't read carefully enough and I used the whole lb and it was yummy, so it's up to you).In a bowl combine the cooled sausage, 4oz cream cheese, 1 egg yolk and 1/2 cup grated parmesan cheese.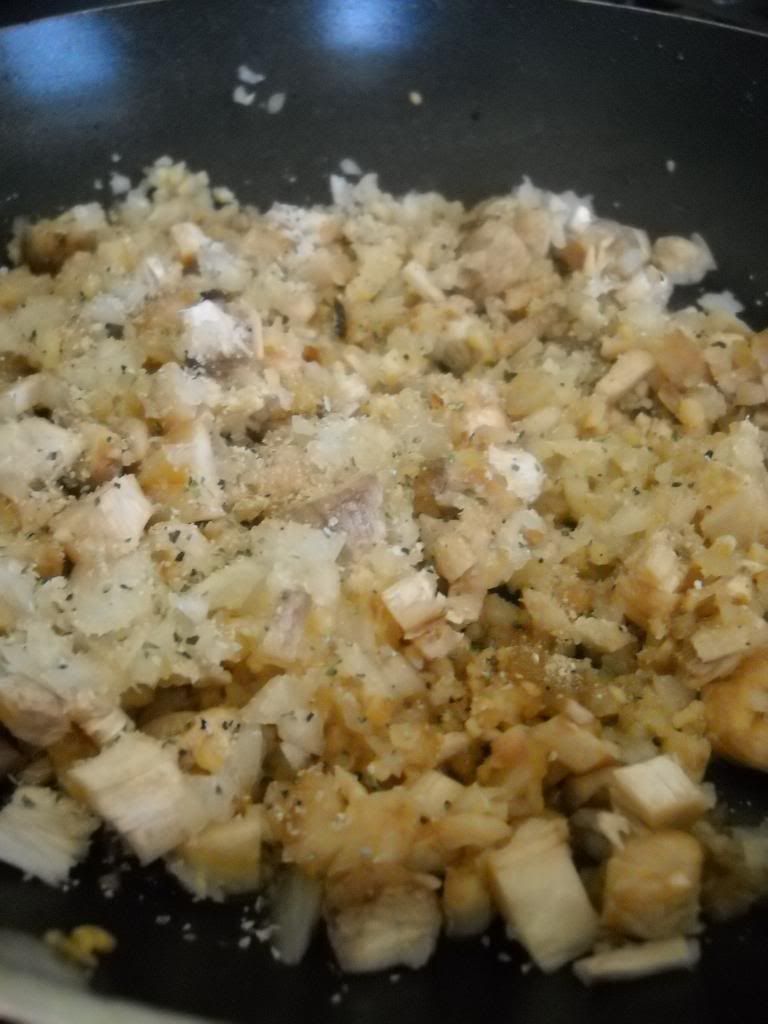 In the pan you cooked the sausage add 1/2 of a whole onion finely diced(I used my mini chopper and it was a medium onion) and garlic -2 cloves. Cook for 2 minutes over medium low heat. (p.s to be honest I didn't follow the measurements exactly just keep adding until it looks right, with all this yumminess you can't go wrong).
Chop mushroom stems finely and add to the garlic/onions, cook for 2 more minutes.Add salt and pepper (of course I used suzie Q), then set mixture aside to cool.
When cooled add the mushroom mixture to the sausage mixture (try a bit at this point-YUM!)
Put the mixture into the mushroom cavities and bake at 350 degrees for 20 to 25 minutes, until golden brown. Let them cool 10 minutes before eating ... all I can say is yum yum yum!
Fancy Macaroni
So, I just realized that the fancy Macaroni has a lot more to it and steps than the shrooms ... and since the PW wrote it so perfectly the first time here is her link for this scrumptious dish (heart attack waiting to happen, but worth every bite) ;)
http://thepioneerwomen.com/cooking/2009/12/fancy-macaroni/
I'll post my pictures, because I changed some things-like she used goat cheese and 3 other cheeses that I had no clue what they were...so I used Monterey Jack (because I got a whole 2 lb block for $3 at the Save Mart, the dairy man gave me the hook ups lol).
Saute a chopped onion in butter for 12 minutes.
Ok, really get all of the steps from PW-it's worth it I am just getting lazy in my old age ;). This mixture is butter, bacon grease, flour, milk, half & half, egg yolk and salt and pepper to taste.
Then the cheese the glorious cheese.
When the cheese is melted you add the carmalized onions and...bacon oh yeah just give me a spoon right here and call it done!
Look at this beautiful dish... this was my serving the rest were lft to fend for themselves ;) lol You bake this beauty for 15-20 minutes at 350 and can I say it again it's soooo worth it; the calories and the prep work!